Email Id of the Placement Cell :
sggscop_26@yahoo.co.in
MOTTO :
Helping students to be independent and self-dependent
The Placement cell in the college was established in the year 2000 and since then the cell has helped hundreds of students in getting jobs. The cell primarily has three objectives viz. placement, training and counseling.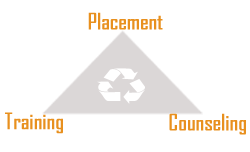 PLACEMENTS :2015
For placements the cell undertakes various activities like arranging campus interviews, communicating with enterprisers for job openings, organizing placement lectures, arranging referral interviews for students, searching and displaying job advertisements etc.

| | |
| --- | --- |
| • | Job Openings |
| • | Organizing Placement Lectures |
| • | Arranging Referral Interviews for Students |
| • | Searching and Displaying Job Advertisements etc |
105 students are placed in various Laboratories of tricity like:
1.
SRL Ranbaxy Ltd.
2.
Fortis , Mohali
3.
Max Hospital , Mohali
4.
Medicose 22
5.
KUC- 45
6.
Alchemist, PKL
55 students were selected for Higher Studies.
TRAINING :
Training is another important activity undertaken by the placement cell, since practical training is a part of curriculum in diploma in medical laboratory technology course. The college arranges practical training for students during fifth and sixth semester in government hospitals as well as in private clinical laboratories. The cell has developed links with more than 50 private clinical laboratories in the tri city for training of our students. A number of students undergoing training are absorbed in the same laboratory after consultation with the Training & Placement Officer. Some of them also start getting stipend during training period also. For evaluation during the training a proper procedure and methodology devised by the PSBTE &IT is being followed. The evaluation criteria include attendance & punctuality, proficiency in conducting laboratory tests, practical notebook, initiative/responsibility exhibited, interpersonal relations and behavior/attitude. For details of the evaluation methodology, visit
www.punjabteched.com
.
HOSPITALS AND LABORATORIES WHERE OUR STUDENTS HAVE BEEN TRAINED
1.
Government Multi-Specialty Hospital, Sector 16, Chandigarh
2.
Inscol Hospital, Sector 34, Chandigarh
3.
Mukat Hospital, Sector 34, Chandigarh
4.
Fortis Hospital, Mohali
5.
Alchemist Hospital, Panchkula
6.
Grecian Hospital, Chandigarh
7.
Chandigarh Clinical Laboratory, Sector 16, Chandigarh
8.
Apollo Hospital, Sector 9, Chandigarh
9.
Other Private Labs in Tricity
FUTURE PROSPECTS AFTER DIPLOMA IN MEDICAL LABORATORY TECHNOLOGY
Medical Laboratory Technology is the branch of medical sciences dealing with clinical investigations for their potential help in diagnosis of diseases and its severity. A Medical laboratory technologist working in a Medical or Clinical Laboratory performs various tests falling under the broad areas of microbiology, hematology, histopathology and biochemistry. In addition medical technologists are also involved in management of blood banks and in performing electrocardiograms.
HOSPITAL CLINICAL LABORATORIES :
Medical Laboratory Technologists are in great demand in the government hospitals. The scope increases with the increasing outpatient and inpatient strengths. Such jobs are advertised in newspapers and usual government procedure for recruitment is followed. The criteria for the selection, in hospital laboratories, are merit in diploma in medical laboratory technology from an approved institution.
PRIVATE CLINICAL LABORATORIES :
Job opportunities in private clinical laboratories and hospitals are requirement based and is usually through contacts and relations. The job requirements and salary are variable ranging between on hourly basis to 12 hour or night jobs. Many technologists often work in more than one laboratory and earn handsome salary. The most important factor for such jobs is the ability of a technologist to handle variety of activities of a laboratory independently.
FURTHER STUDIES :
Many students opt for further studies i.e. Bachelor in Medical Laboratory Technology. Options for part time studies, through distance education for working professional, are also available through Punjab Technical University. Many of our students are taking advantage of this option for improving their career. Diplomas in laboratory technology students of our college are also eligible for appearing in entrance for BMLT course in PGI, Chandigarh.
SCOPE ABROAD :
A medical laboratory technologist with rich experience can also earn his/her livelihood abroad as well. Opportunities depend upon various other factors, which vary form country to country. MLT is in SOL (skilled occupation list) and ENSOL (Employer Nomination Scheme Occupation List) of AUSTRALIA form no – 1121i Department of immigration and citizenship. This make the student to get 50 points for immigration.